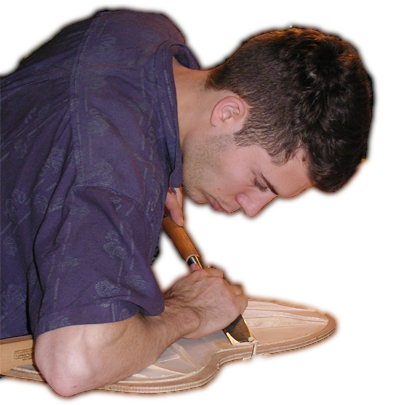 I am offering a 5-week intensive course of instruction in acoustic guitar building. The course offers 5-day/week hands-on instruction in the workshop, with optional room & board. Students will learn every aspect of the process from start to finish, and will build their own guitars during the course.
These days, my home and shop are in Chelsea, QC. Canada (near Ottawa). I've been at various locations over the years, (mainly in and around Toronto), but in 2003 I bought an old restored farmhouse in the country, including an old barn and renovated shop and guest house.
The 15 acre property is mostly wooded and surrounded on two sides by the Gatineau river. The Wakefield steam train used to roll by twice a day in the warmer months, these days the tracks have been replaced with a walking trail.
This is a comprehensive and detailed course covering the construction of classical and flat-top steel-string guitars. Students will, in the course of this program, build a guitar from rough materials and follow through to a completed instrument.
Students will be familiarized with the luthier's tools, their safe use and proper maintenance. Plans, templates and special jigs will be introduced and constructed by the students for their own use and retained by them at the course's completion.
Students will gain an appreciation for the choices of woods in guitar construction and why different woods are used for different parts of the guitar. Practical design and acoustic principles will also be examined, as well as comparative approaches of other established guitar makers.
| Course | Fee (before taxes) |
| --- | --- |
| 5 week course | CAN $6000.00 |
| Additional guitar | CAN $1000.00 |
| Room & board (vegetarian meals) | Inquire |
Inquire for more details
Some people like to start a second guitar during the course. They may do so, but I ask that students focus on their first guitar insuring that it stays caught up. Furthermore, students should think of the second guitar as a personal review, and I cannot supply much attention towards it. The surcharge is $1000.00.
A 20% deposit is required to reserve your space. Balance of payment is due on the first day of the course.
WiFi high speed internet is available on the property
All tools and materials are supplied with the course.
Classes run for 8 hours per day, Monday through Friday.
Class size restrictions are in place to optimize student/teacher interaction and shop resources
PLEASE BOOK EARLY TO AVOID DISAPPOINTMENT.
Key Course Learnings
designing their instruments and bracing patterns based on preferences and acoustic principles
designing and constructing jigs and templates for specific operations;
use of all power and hand tools; how to maintain them and use them safely; good work habits
making all internal and external parts from rough stock; cutting raw stock as necessary
joining, planing and bracing a sound board and back
making kerfed linings
hand bending the sides to fit the mold and assembling the guitar frame; adding back and sides
inserting or inlaying purfling and sound hole rosettes
cutting and fitting the neck-to-body dovetail joint
building, shaping, and re-enforcing the neck; making and slotting the fingerboard; installing frets
finishing materials and techniques; sanding and polishing
final assembly and set-up to critical specifications
some repair techniques
Advanced Course
A 4 month course that builds on established foundation
This in depth program expands upon the 5-week intensive course — Adding much practical experience and broadening the student's abilities.
Applicants must meet the required level of skill and proficiency in guitar making.
| Course | Fee (before taxes) |
| --- | --- |
| 4 month course | CAN 20,000.00 |